Dehler 42 - "Ella"
The Dehler 42 "Ella" in Rogoznica/ Croatia presents itself conceptually as well as visually unusually homogeneous. The layout and functionality on deck are impressive throughout: halyards, reefing and trim lines lead below deck to winches on the side of the companionway, primary and secondary winches in the cockpit for genoa and mainsheet (German Cupper System), a long traveler on the cockpit floor, and two steering wheels.

This arrangement has been tried and tested many times and has become the standard in the performance cruiser genre.

The long, dark-tinted superstructure windows and the perpendicularly sloping ship ends are particularly characteristic. A beautiful boat already at the dock: clear lines, tidy cockpit, no-frills layout.

With a lot of feeling the Dehler 42 "Ella" can be sailed in Rogoznica/ Croatia at the wind edge and the performance potential can be called up immediately. The Dehler manages 6.9 knots hard on the wind with a tacking angle of a good 80 degrees. It is remarkable how stiff the boat feels and how well it works away the gusts - the conversion is immediate in speed and height, not heel. That is class!

The Dehler 42 "Ella" in Rogoznica/ Croatia could still be steered cleanly on the wind even with eyes closed. In addition, the layout in the cockpit is perfect for a crew performance. The controls are easy to grasp, and working on the winches is ergonomically efficient and saves effort.
Mainsail & Genoa 2019, Regatta T-shape keel, grey hull, stainless steel rub rail, ELVSTRÖM HPM High Performance Membrane sail - battened through with German Mainsheet System, Code Zero bookable for 175 Euros, Dynema halyards, 3-blade folding propeller, spinnaker gear - composite bowsprit with intigrated anchor fitting, Selden MDS Slider System, through-hull mast, carbon reinforced floor assembly, deluxe mattresses for all beds, electric halyard winch, larger race mainsheet and genoa winches, low power broadband radar, plotter and multi-display on both helms, wireless autopilot remote, B&G Forward Scan with Sonar Hub, Fusion™ with remote control in cockpit (radio, dock IPHONE®, USB, Android) - interior speakers - exterior speakers, rail access on both sides, bimini, teak on cockpit seats + cockpit floor + swim platform, cherry interior finishes
Basic informations
Name
Ella
Manufacturer
Dehler
Model
Dehler 42
Build year
2017
Cabins
6
Berths
3
Toilets
2
Max. passengers
5
Equipment
Steering
2 Steering Wheels
Main sail
full batten
Headsail
furling/roll
Technical data
Length
12,84 m
Beam
3,91 m
Draft
2,40 m
Weight
8.400,00 kg
Engine
38,00 hp
Fuel tank
160,00 l
Water tank
315,00 l
Navigation
GPS chart plotter - cockpit
Navigation (Nautical) charts and nautical guide
Wind instrument/Anemometer
Deck
Cockpit/stern, outside shower
Spare anchor (Reserve, Auxiliary anchor)
Safety
Automatic Inflatable Life Jacket
Life belts (Safety harness)
Life buoy + Flashing light
Signal rockets and torches
Entertainment
Radio CD/MP3 player, AUX input
Galley
Kitchen utensils (Galley equipment, cutlery)
Other
3 blade folding propeller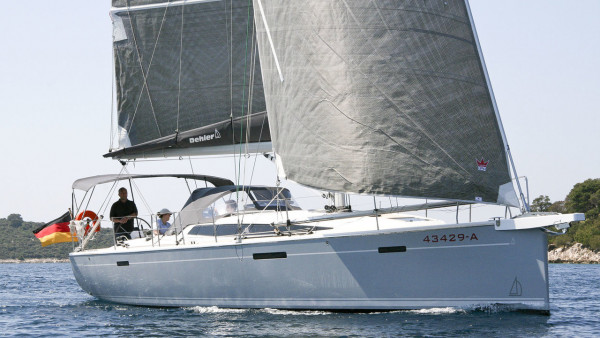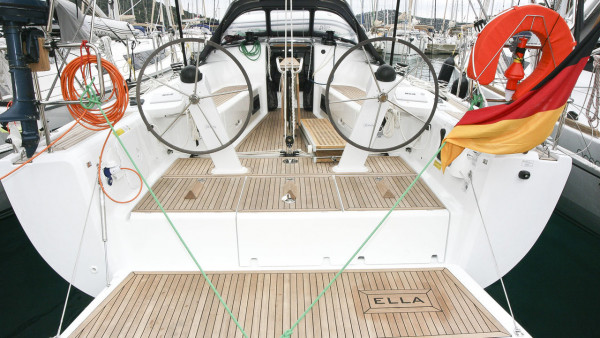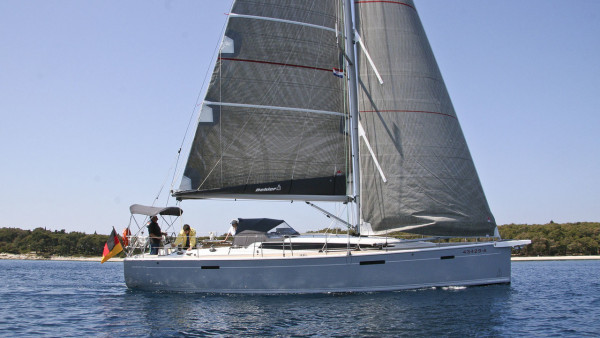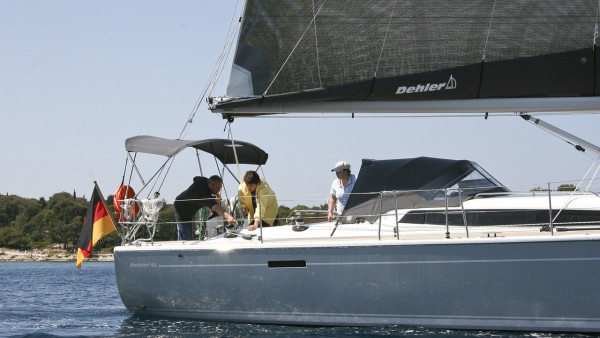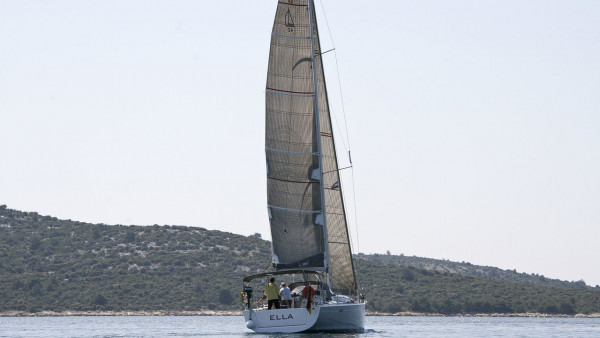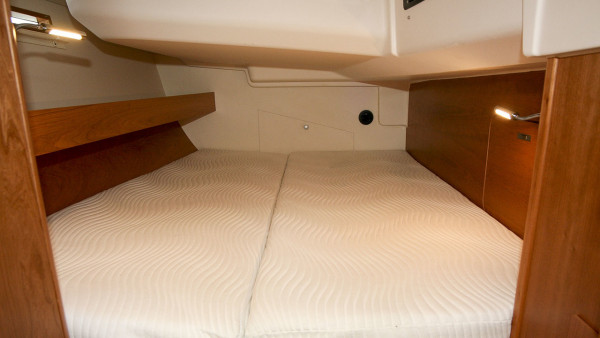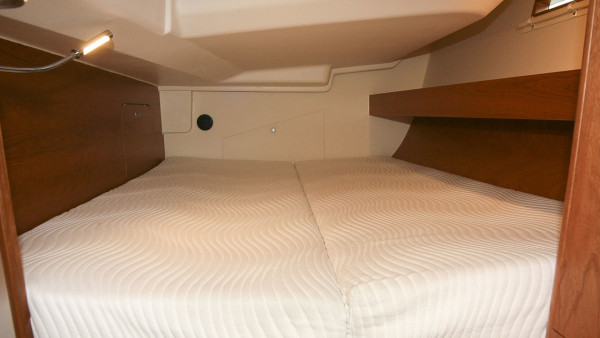 2024
Sa. 30.03.2024 - 07.07
2.030,00 €
1.499,40 €
Sa. 06.04.2024 - 07.07
2.030,00 €
1.499,40 €
Sa. 13.04.2024 - 07.07
2.030,00 €
1.499,40 €
Sa. 20.04.2024 - 07.07
2.030,00 €
1.499,40 €
Sa. 27.04.2024 - 07.07
2.030,00 €
1.499,40 €
Sa. 04.05.2024 - 07.07
2.530,00 €
1.915,90 €
Sa. 11.05.2024 - 07.07
2.530,00 €
1.915,90 €
Sa. 18.05.2024 - 07.07
3.080,00 €
2.374,54 €
Sa. 25.05.2024 - 07.07
3.580,00 €
2.791,04 €
Sa. 01.06.2024 - 07.07
3.580,00 €
2.791,04 €
Sa. 08.06.2024 - 07.07
3.580,00 €
2.791,04 €
Sa. 15.06.2024 - 07.07
3.580,00 €
2.791,04 €
Sa. 22.06.2024 - 07.07
4.230,00 €
3.332,00 €
Sa. 29.06.2024 - 07.07
4.230,00 €
3.332,00 €
Sa. 06.07.2024 - 07.07
4.230,00 €
3.332,00 €
Sa. 13.07.2024 - 07.07
4.230,00 €
3.332,00 €
Sa. 20.07.2024 - 07.07
4.230,00 €
3.332,00 €
Sa. 27.07.2024 - 07.07
4.230,00 €
3.332,00 €
Sa. 03.08.2024 - 07.07
4.230,00 €
3.332,00 €
Sa. 10.08.2024 - 07.07
4.230,00 €
3.332,00 €
Sa. 17.08.2024 - 07.07
4.230,00 €
3.332,00 €
Sa. 24.08.2024 - 07.07
4.230,00 €
3.332,00 €
Sa. 31.08.2024 - 07.07
3.980,00 €
3.124,24 €
Sa. 07.09.2024 - 07.07
3.980,00 €
3.124,24 €
Sa. 14.09.2024 - 07.07
3.580,00 €
2.791,04 €
Sa. 21.09.2024 - 07.07
3.080,00 €
2.374,54 €
Sa. 28.09.2024 - 07.07
2.530,00 €
1.915,90 €
Sa. 05.10.2024 - 07.07
2.530,00 €
1.915,90 €
Sa. 12.10.2024 - 07.07
2.030,00 €
1.499,40 €
Sa. 19.10.2024 - 07.07
2.030,00 €
1.499,40 €
Sa. 26.10.2024 - 07.07
2.030,00 €
1.499,40 €
Ihr verbidlicher Chartervertrag